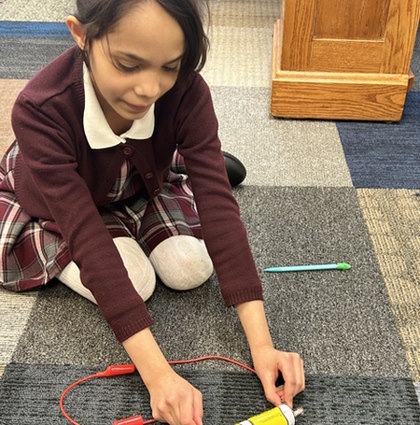 General Information
The St. Christopher Extended Care Program provides before school and after school supervised child care for our school children in a loving and caring environment, while providing supervision, recreation and activities. Extended Care is available for students in grades preschool through eighth grade.
This professionally operated program allows children to experience activities within a Catholic environment. The children are offered games and recreation, craft projects, group work, homework time and other activities. Adult supervision is constantly present to maintain a safe, orderly environment.
For the definitive statement of Extend Day policy and regulations, please see the Extended Care/PowerHour 2023-24 Parent Handbook.
Extended Care Hours of Operation
Before school: 6:30am to 8:00am (6am upon request only)
After school: 3:00pm to 6:00pm
Extended Care Fees
Registration Fee: $35 per family
Daily Fee: $7 per hour (1 child)
Daily Fee: $10 per hour (2 children)
Daily Fee: $15 per hour (3 or more children)
Emergency and Safety Information
With the child's safety in mind, it is important that the parent/guardian fill out an emergency card and adhere to the rules.
Parents/guardians cannot send persons whose signatures are not on the emergency card without proper authorization.
In case of a minor illness or accident, the staff will administer first aid. In cases of a serious problem, the staff will refer to the emergency card and follow the instructions given on the form. Those parents who wish their child not to be medically treated in any way should state so on the emergency form. Alternative instructions should be supplied. If the instructions on the emergency cannot be followed at the time of the emergency, the staff will act to the best of their knowledge for the welfare of the child.
No medication will be administered to any child unless a note from the doctor and parent is sent stating what, when and how much medication should be given to the child. If a child gets sick during the program the parent will have to make arrangements for their child to be picked up.